Custom Design
Initially, you will be faced with two decisions that will be directly responsible for the overall quality as well as your satisfaction of your home.
First, the selection of your log home provider will dictate the quality of your home's craftsmanship as well as it's thermal efficiency.
Second, deciding on the right design will assure that your home's floor plan and aesthetics will fit your needs and desires.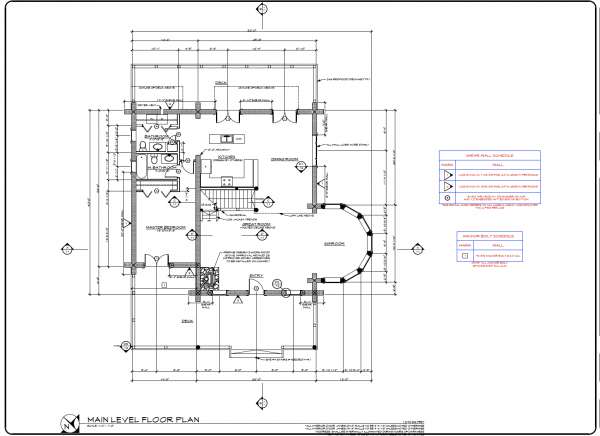 By utilizing our in-house custom design service, you will ensure that your log home will be as unique as your personality. Big Fish Drafting and Montana Log Homes Design Services have been working with Montana Log Homes since 2000. Together, we have designed and built homes throughout the country. With our average customer living outside of Montana and having limited construction knowledge, we are accustomed to corresponding over the phone and through e-mail in great detail. Put this experience to work for you and create the perfect plan.
The design process will begin upon receipt of your signed drafting contract and drafting deposit. You will need to provide some input as to square footage or exterior dimensions. Ideally, we are presented with a sketch of the floorplan, but that is not required. We have started with everything from a fully scaled plan on graph paper to a quick sketch, or simply a conversation over the phone. We will then work through a series of preliminary plans using a three-dimensional based software. Even for those of you who have trouble visualizing, we can ensure that you will know exactly what your home will look like, before it is built.
Prior to the finalizing your plans, Montana Log Homes requires that the roof and loft logs be structurally engineered for your building site's specific snow load. Typically our customers and/or their general contractor prefer to have the entire structure engineered all the way from the ridge log down to the main level floor framing and foundation footings. We have worked with many engineering firms across the country and since 2005 we have been working with Stahly Engineering to address the structural detailing of our plans. This process guarantees that your home will stand strong for generations to come.
Once your designer, Montana Log Homes, Stahly Engineering (or the engineering firm of your choice) and most importantly, yourself, have reviewed and approved the plans, we will provide a pdf version of your plans along with a "Virtual Building Explorer" file to allow a full virtual walk through of your home. The pdf plans will include: