Log Home Pricing
Kalispell Montana Log Homes Inc. specializes in handcrafting custom log packages which include delivery and on-site re-assembly services anywhere in North America. We do not provide "kits", which include all materials to build your home. The one of a kind log homes we produce should be constructed with the style and quality of finishes of your choosing, not ours. Due to the custom nature and options available for each of our homes it is not possible to provide a price list. We do provide free cost estimates for any of our "MLH" plans. We also welcome your own plans, with dimensions. Please provide the location of your building site and any options you may want for your log home. We do not base our pricing on square footage but rather on the lineal feet of logs, number of corners or intersections, size and complexity of roof, loft and porch systems. Therefore similar size homes can have substantially different costs for the log package.
A couple of the most common questions we get are: "How much does it cost to build a log home?" "How much will a (insert any number) square foot (sf) log home cost?" These questions are virtually impossible to answer without a specific design, being built on a specific piece of property, with specific selections made for all of the finish materials. No two homes are exactly alike, and rarely are two building sites exactly alike. Therefore "site costs" for things such as driveway, power, water, phone, septic and excavation can vary dramatically from one building site to another. This in turn can have a major effect on the total cost to build. Site costs are roughly the same for a particular piece of property whether building a 600 sf cabin or a 10,000 sf lodge. The cabin may end up more per sf than the lodge.
Let's assume that you have determined all of your site costs. Because we build custom homes you have many options from which to choose. We offer a large variety of log sizes from 11"-12" base diameter on up to 20"-24" base diameter. The larger the logs you prefer, the higher the cost of your log package and ultimately the higher your total build cost. Our building methods are either Scandinavian full scribe
or chink style construction in full round logs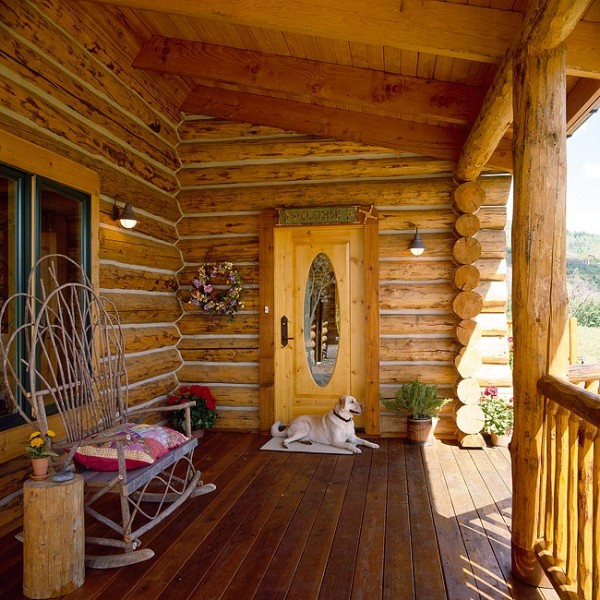 We can also provide logs milled on two sides with dovetail corners
or custom log work for frame constructed homes
.
Each of these styles will have different costs for the same log package.
We also offer full log gable ends; which is full log construction from loft height or top of exterior wall height to the ridge of your home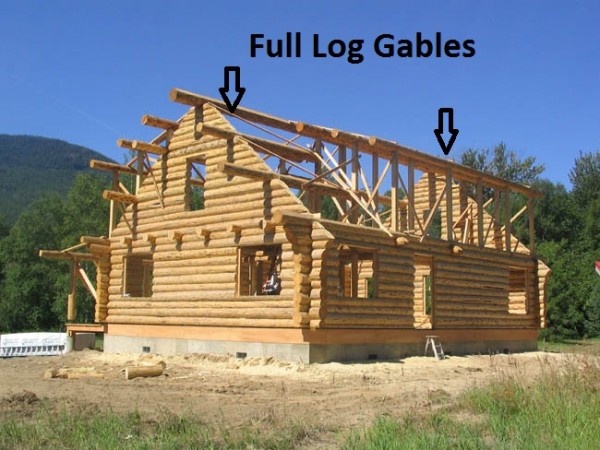 This option is quite popular but may cost a bit more than constructing this portion of your home in frame construction.
If your plan is a simple four corner design with a one direction roof line it will cost less than an identical size home with multiple corners and roof lines. This is because all phases of the construction from excavation through roofing take longer and utilize more materials for the more complex designs.
A major variable is the quality and style of "finishes" that you desire. Finishes include roofing, heating systems, windows, doors, flooring, cabinetry, counter tops, plumbing fixtures, lighting fixtures and everything else, right down to door knobs and the shelving in your closets. Let's start with one item, the windows. Today I can buy a 4' x 4' vinyl window for $250.00, but a top of the line, "Designer Series" with shades installed between the glass, 4' x 4' window is $1,800.00. Multiply the difference by say 10 windows for your 1500 square foot (sf) home and you have a difference of $15,500 or roughly $10/sf, for just one of the many finishes in your home. One more example, many clients love the ambiance of a wood fire in their log home. The choice of installing a free standing wood burning stove, or a full masonry fireplace covered with real stone can mean a difference of as much as $30,000 or more. $15 to $25/sf more for the same 1500 sf home. Porches, decks, and covered entryways also affect total build costs.
The location of your home is another consideration. Every county in the Nation determines the amount of fees and regulations required to build in their county. Some counties have minimal fees and regulations while other counties fees and regulations may add thousands, or even tens of thousands, of dollars to your build costs.
To prepare a total cost budget for a custom log home in the early planning stage we suggest the following guidelines based on per square foot of living space for both main floor and loft:
Use $180 to $220 for a simple four corner design with low to average finishes in an area with low site costs and minimal permit fees.
Use $210 to $270 for a simple four corner design with mid to higher quality finishes, or higher site costs or high permitting fees.
Use $230 to $300 for a more complex design with mid quality finishes, with average site costs and average permitting fees. Also use for a simple four corner designs with higher site costs and higher permitting fees.
Use $270 to $330 for a more complex design, with mid to high quality finishes, average to high site costs and/or average to high permitting fees.
Use $300 to $360 for a more complex design, with high quality finishes, above average site costs and above average permitting fees.
Use $360 to $440 and up for a very complex home, with very high end finishes, in an area with high site costs and high permitting fees and regulations.
Please feel free to contact us for additional information or for your no-obligation cost estimate for your log home package.